Welcome to Elvis In Russia
Thank for coming to the ultimate page representing information on Elvis from Russia. Here you will find reviews to CDs and books published in Russia as well as reviews to official and imports CDs and DVDs, books, etc. When putting toghether this website we wanted to present it as an in-depth critical review to the Presley legacy, which fans through the world might find interesting. We tried to be as objective as possible, however, this material is only our point of view and some of the fans may disagree with us. Any way, we hope you enjoy your trip throughout this website.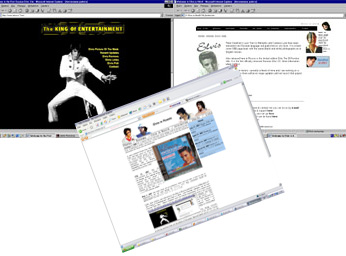 Now a few words about the design. To properly view the design elements you have to be using 1024x768 resolution or higher plus have the java and other multimedia turned on in your browser setup. However, if you do not have the possibility to have them turned on you can use the text menu at the bottom of the page. We hope you will like our new design and would be glad to hear something about it through e-mail or guestbook entries!
With the very best wishes,
Elvis in Russia team
Recent Updates
April 25, 2012 Just published in Russia is the translation of the book Ou la revanche du Sud...

October 2011 A new documentary reveals the compelling story of Elvis Presley's former bass player Duke Bardwell. Visit the web page and read the official press release for more information.
December 1, 2009 Too little spare time this last year unfortunately... But we've got great news for the Russian fans in a special Russian section of our website!

March 3, 2009 Review of the recent That's The Way It Is - The Complete Works set has been added