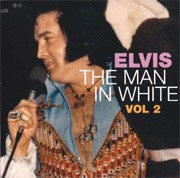 Title: The Man In White, vol. 2

Label: Lone Star

Date: September 6, 1976; Huntsville, ALA, Von Braun Civic Center; Monday 8:30 P.M.

Sound Quality: * * * * * - / * * * * * +

Concert Rating: * * * * - / * * * * * +

Tracks: 1.2001 2.C.C. Rider 3.I Got A Woman / Amen 4.Love Me 5.Fairytale 6.You Gave Me A Mountain 7.All Shook Up / Teddy Bear / Cruel [sic] 8.And I Love You So 9.Jailhouse Rock 10.Fever 11.America, The Beautiful 12.Band Intro's 13.Early Morning Rain 14.What'd I Say 15.Johnny B. Goode 16.Drum Solo 17.Bass solo 18.Bass solo #2 19.Electric Piano Solo 20.Love Letters 21.School Days 22.Hurt 23.Hound Dog 24.Danny Boy (Nielsen) 25.That's All Right 26.Blue Christmas 27.Mystery Train / Tiger Man 28.Funny How Time Slips Away 29.Can't Help Falling In Love 30.Closing Vamp



Package: Rather poor: a few lines written by "eye witness" Pal Granlun from Norway found on the backside of the cover. Inside the cover you will find the announcement about the (then) forthcoming Elvis The Man in White, volume 3, and 4 small photos from the show.

Elvis: He is rather concentrated and in a pretty good mood. Also taking in account that this is the second show from the day this show is very good.

Review: This was Elvis' 6-th tour in 1976. He was exhausted and the level of his performance showed it. However this CD represents a very good (for 1976 standards) concert, with Elvis in pretty high spirits.

The show begins with Also Sprach Zarathustra, which is incomplete, like it is often. The Ronnie Tutt's drum roll begins and C. C. Rider starts with Elvis getting onstage and receiving a warm reception. There are some strange disappearances of Elvis' voice during the song and Elvis' laughs, but this version is quite energetic with a different James Burton's solo in the middle. "Thank you very much... Honey... Would you turn that sign around so everybody can see it,

so they will think that we are completely nuts? This girl has got a sign. It says "Elvis' granny is here" What am I supposed to do with them, honey, I mean?..Come here granny!" Elvis says and then he goes into the "Well, well, well" intro of I Got A Woman. After a feedback sound you can hear Elvis shouting "Watch that feedback!" The song itself is in no way a special version, Elvis' voice is weak and he doesn't seem to be interested. Elvis asks J.D. to do his B-52 thing for a second time after saying: "You didn't like it, did you? Well he can do better, I've got news for you, you know, he's the world's lowest bass singer and he can do it better, so listen to him this time". After ending the song, Elvis says: "Thank you very... I mean, good evening, ladies and gentlemen... It is evening, isn't it?" and after ending the usual greeting speech he goes into a mediocre, rather short Love Me, which is a bit better than always. "Thank you very much... Let me see... This next song... Wait a minute, don't start yelling at me, you know, I am going to do the show... Once I got started and got my mind in the right direction. This is a song from an album we did last year called... I don't know... Fairytale". During the intro Elvis says one more time "Called I Don't Know". However as the intro comes to an end Elvis stops the group to tell James that he hadn't done a good job during the intro and asks him to do it again, though I don't hear any real difference in this two "versions" of the intro. It's a mediocre version, Elvis misses a couple of words here and there, but still it's in no way a looser version. After the song Elvis confesses that during the afternoon show the group had played it in such a high key that he wanted to ask Kathy to sing it instead of him. Next is a very good rendition of You Gave Me A Mountain. Everybody knows that this song was a special one for Elvis and even during some of his worst shows he did it very good, this version is no exception. After hearing some whistles during the song, Elvis, however, looses concentration for a second saying: "Birds in the audience!" but quickly returns to serious work.

"I'd like to do a medley of some of my records for you" Elvis says and goes into the throwaway versions of All Shook Up, Don't Be Cruel and Teddy Bear to the delight of the audience, which clearly enjoys the scarves they get. "And I Love You So" Elvissays and goes into a fair version of this beautiful song. Following is a mediocre version of Jailhouse Rock and the audience pleaser Fever, which drives the audience crazy. Nothing special. America The Beautiful (usually a show stopper at this point of Elvis' career) turns into a joke because Elvis forgets the words.



Next are the intros, which are very long and pretty boring for those who are used to this period's shows. However, after Hail, Hail Rock'n'roll Elvis announces Hurt, which is a looser, because Elvis' voice is very rough at the end of the song and on the reprise's ending too. Hound Dog is a standard throwaway version, after which Elvis asks Sherill Neilson to sing Danny Boy. It's still a big question for me why didn't sing the song himself after the fantastic unrehearsed version he had performed in Tucson that year. Probably having caught his breath back, Elvis decides to sing That's All Right Mama, accompanying himself on guitar. Before the song you can hear somebody (probably, Charlie Hodge) saying "Blue Christmas too?" and receiving a "Yes" in return. The song puts Elvis back on the right track again, he is so energetic nearer to the end that it surprises :-) Blue Christmas is very nice done too, with a very gentle vocal by Elvis. "O.K. What are we gonna do? Anything... Mystery Train". Elvis however stops the group because of having messed up the first and second couplets, and after beginning the first couplet he confesses: "It's been a long day". This version is not fantastic but very good and energetic, especially for this period of Elvis' life. "I'd like to turn the house light up, ladies and gentlemen..." Elvis says and after receiving some kind of a present from somebody in the audience, he begins Funny How Time Slips Away. He is very furious when a feedback forces the sound engineers to turn the volume in the hall low. "Goddamn it!" he yells. For the first time in a long time Elvis sings "Ain't it surprising how time slips away" during the last couplet. However this song leads us to the last song of this very nice concert.

So what can one say as the conclusion? Most of the first part of the show and the ending is very energetic, the middle part is rather sad to listen. By this time most of the worst of this year was over, the best was still to come. This show is very nice and recommended for everybody.

M bootleg index