Title: One Night Only (released in 2006)

Label: Madison

Date: November 10, 1971, Boston, MA

Sound Quality (Concert): * * * * / * * * * * +

Concert Rating: * * * * + / * * * * * +

Tracks: 1.Introduction: Also Sprach Zarathustra 2.That's All Right 3. I Got A Woman / Amen 4.Proud Mary 5.You Don't Have To Say You Love Me 6.You've Lost That Lovin' Feelin' 7.Polk Salad Annie 8.Elvis Walks ("Coming Home, Baby" instrumental) 9.Love Me 10.Heartbreak Hotel 11.Blue Suede Shoes 12.One Night 13.Hound Dog 14.How Great Thou Art (incomplete) 15.Introduction of vocalists, band, orchestra (incomplete) 16.I'm Leavin' 17.Bridge Over Troubled Water (with reprise) 18.I Can't Stop Loving You 19.Love Me Tender 20.Suspicious Minds 21.Elvis Talks ("Coming Home, Baby" instrumental) 22.Funny How Time Slips Away 23.Can't Help Falling In Love 24.Closing Vamp and announcement (Duration: 57 min. 40 sec.)

Package: Absolutely marvelous! Once again Madison surprises us with a great package. Wonderful color photographs from the actual show and an article from the next day's newspaper - this is a wonderful job.

Elvis: This concert was previously available on The Power Of Zhazam bootleg CD and many of the fans know of Elvis' mood. This is a perfectionist at work, the mood of this concert reminds very much of the Madison Square Garden performances some seven months later. But however, this concert lacks the spark once present at the Presley concerts. The performances are aggressive and good but Elvis doesn't sound to be very much inspired. The energy is there but the enthusiasm is not.

Highlights: Polk Salad Annie opens up the short list of true highlights for the evening, How Great Thou Art is great too, but unfortunately incomplete.

Review: With no less than five seasons in Las Vegas behind him, Elvis was clearly becoming bored with the venue, and his third tour since his return to live performances in 1969 - and the only one for 1971 - was a relief in all terms. However, the performance on this release - previously available on The Power Of Zhazam bootleg CD - has received a great amount of compliments it didn't quite deserve over the past few years. The concert mood, as we have stated before, is very close to Madison Square Garden concerts, the musicians are the same, many of the songs from this particular concert made it into the MSG concert as well. But this is more of a work out than a true Elvis show.

Madison on their part made a great improvement on the sound quality compared to the original release. They have obtained a first-generation tape, this resulted in a better sound as well. The result is close to FTD's The Impossible Dream release, with some more obvious overloads in the mix. However, the sound is pretty good.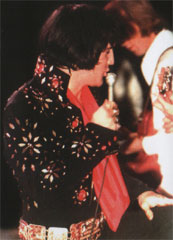 We have decided to revisit this concert with an in-depth review, since it deserves it. After the Zarathustra introduction, Elvis rocks the building with the opening That's All Right Mama, his voice is not that great on this song, but the band sounds exceptionally good, and Elvis even calls for a repeat of the last verse, like he used to do in the later years. I Got A Woman is a bit dull, Elvis doesn't really try to work hard on this song, except for the very ending. Then Elvis throws himself into Proud Mary. The song sounded a little unfinished arrangement-wise in 1970, but Elvis' voice was better suited for this song back then, now, with the arrangement as close to his famous 1972 versions as possible Elvis' voice sounds a bit worse on this number, but the band sounds very good again. Next is a passionate version of You Don't have To Say Love Me. This version features a fine job on Elvis' behalf - he would never match his 1970 renditions of this song, but he sounds clearly stronger than in 1972. You've Lost That Loving Feeling is next. With the bridge back into the arrangement, this song is fine, Elvis calls out for Joe Guercio after the line "You never close your eyes anymore when I kiss your lips," and as a result looses himself and breaks out in laughter. The trombones sound out of tune at some points of the song - this is unexplainable to us. Having said nothing, Elvis throws himself into a wild Polk Salad, this time with the talking part back into the arrangement, even if it doesn't sound too serious. "I used to know a girl lived down and she'd go out in the evenings and pick a mess of -- weird ol' chick," he declares and now you get a feeling Elvis is beginning to get into it, Jerry delivers a fine solo, it's a pity he doesn't use more fuzz in his amplifier for this solo, and it is a bit short - we would love had it been even a minute longer. However Elvis goes wild closer to the end of the song - a great listening pleasure (and we can only imagine how great it was to be there).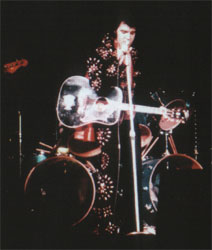 Still having said nothing to the public - except forsome "Thank you"'s Elvis launches into Love Me, which is already ruined at this point of Elvis career by a too much rushed tempo - though would only become worse with the years. Heartbreak Hotel is filled with laughter and jokes, Elvis just doesn't sound too much interested. Blue Suede Shoes has more spark, but the performance ain't exceptional anymore. During the following One Night - which is not too good as well but features a fine ending - Elvis receives a feedback from the audience. As he ends the line "Just call my name," somebody from the audience shouts "ELVIS!" back. Great stuff. The slow/fast rendition of Hound Dog is next. A lazy performance, but some vocal improvisations from Elvis in the beginning makes it worth listening. "I'd like to do a gospel song featuring J.D. Sumner and Stamps called How Great Thou Art," Elvis says and goes into a very delicate rendition of this show stopper. Unfortunately part of this song - as well as the beginning of the following band introductions - are missing, since it seems that the original tape was flipped at this point.

Elvis' voice sounds tired during the introductions. "I have a record out called I'm Leaving, I'm not gonna sing just gonna do it... I'm arriving, ok" Elvis says and the band launches into the song. Elvis sounds dedicated even if his voice doesn't sound too good on this number - the key of this song always seemed to be too high for Elvis. However, it is a fine performance. "Thank you, Bridge," Elvis says. Referred to as (probably) the best live rendition of this song in the booklet this song (and the reprise) is a good version but clearly not the best live rendition of it. The August 1970 featured Elvis in better voice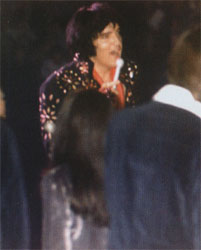 form, even if he avoided trying to sing some of the notes in the operatic way he does in this version. I Can't Stop Loving You is a fine performance, with Elvis throwing himself into it wholeheartedly. Love Me Tender is next, this is mostly a show pleaser but Elvis changes a few lines in order to cheer himself and the band up ("For my darling I love you 'cause you take the pill.. always will", "I'll be yours through all the years 'till we blow our mind") and has an interesting vocal improvisation close to the end, making this delivery special. Suspicious Minds is next, having lost much of it's original spark after 1969 already, this version is fine in the league of the rest of them. In the middle of the song Elvis adds: "Let's don't let a good thing die - hope this pants don't rip, Lord have mercy." The only minus is that the orchestra is out of tune on the final note. Elvis barely talks after the song as he is out of breath, proving how much effort he has put into the previous song. "I'd like to turn the house ups.. house lights up, ladies and gentlemen, to take a look at you... OK! keep 'em up, keep 'em up. You're beautiful, thank you very much. You're a fantastic audience, thank you very much. Hope you enjoyed our show tonight, folks." Funny How Time Slips Away is next with Elvis saying "How am I doing? - I am bleeding!" The concert ends with Elvis throwing himself into Can't Help Falling In Love.

As a conclusion we can say - this is a fine addition to the soundboard collectors, the concert is fine but not exceptionally good. If you have missed the original release and want to own a fine soundboard from 1971 - you can invest your money in it, but don't expect too much from this show. Still, the package is worth at least half of the price of this CD. Thanks to Madison for a quality product.

March 2007.
Photographs on this page are from the booklet of this particular release.

O bootleg index