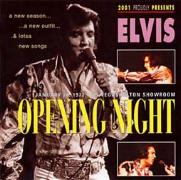 Title: Opening Night (72) (Released in 1997)

Label: 2001

Date: January 26, 1972, Las Vegas Hilton, Opening night + Bonus, September 3, 1973 Las Vegas Hilton Closing night

Sound Quality (Concert): * * * * - / * * * * * +

Concert Rating: * * * * + / * * * * * +

Tracks: 1.See See Rider 2.Proud Mary 3.Never Been To Spain 4.You Gave Me A Mountain 5.Until It's Time For You To Go 6.Polk Salad Annie 7.Love Me 8.Little Sister / Get Back 9.All Shook Up 10.Teddy Bear / Don't Be Cruel 11.One Night 12.Hound Dog 13.A Big Hunk O' Love 14.Bridge Over Troubled Water 15.Lawdy Miss Clawdy 16.An American Trilogy 17.Band introductions 18.I'll Remember You 19.Suspicious Minds 20.Can't Help Falling In Love 21.Closing Vamp Bonus Tracks: 22.Mystery Train / Tiger Man 23.Help Me Make It Through The Night 24.Softly As I Leave You (Rare Solo Version)

Package: The producers of the CD didn't bother to find photographs from the actual Las Vegas season (except for the picture on the cover) and preferred to put photographs from the 1972' Spring tour inside. The package isn't the most important on this release, but it's always a pleasure to have corresponding photographs inside. Not the worst decision, though.

Elvis: As in case with many opening nights, he is pretty nervous here, as if asking: "Will the audience like my new concert program?" The answer is "Yes", of course.

Highlights: A very slow but emotional You Gave Me A Mountain, a fantastic and very inspired Bridge Over Troubled Water and a great An American Trilogy could be mentioned as the biggest highlights.

Review:It seems that Elvis still had the ability and inspiration to work on his live repertoire as late as January 1972. It was the beginning of a long and very successful year for Mr. Presley, who was just on his way of making his most critically acclaimed film (Elvis On Tour) and one of the most important engagements of his life - The Madison Square Garden performances. But this CD represents the very beginning of the year, a new concert with "lotsa new songs" as the cover boasts. The repertoire from this opening night will become the basic one for this year.

The sound quality isn't as good as one might have expected. It is and average soundboard recording, not very well mixed - all the voices are a bit in front with all the instruments a little way back. You get used to it in a few minutes, though. The recording begins from the middle of See See Rider and this was months before it had become a standard opener for an Elvis concert which results a very inspired version. Proud Mary is next,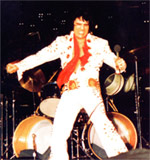 Elvis' voice cracks a bit here - the pressure of the opening night begins showing, or maybe he is saving his voice for An American Trilogy? Next is the first premiere for this evening - Elvis' version of Never Been To Spain. A little hoarse in Elvis voice can be heard in the beginning of the song, he messes up with the words in the middle of the song, but this doesn't spoil it. "A little more water" Elvis says and greets the audience before saying shortly: "A song by Frankie Lane" and what follows is a great You Gave Me A Mountain (Elvis voice is lost in echo in the beginning of it), this is probably one of the slowest versions of this song I have ever heard. Almost a flawless version here. "I have a new record, it goes like this," Elvis says during the intro of the next new song for the evening - Until It's Time For You To Go. This is the complete version (3:49 !), with the complete intro, very close to the master. Never ever after this season will Elvis perform this song so seriously (though even this version doesn't lack the usual Elvis' jokes - "Yes, we're different, world's apart, I hope so"). Next is a very energetic Polk Salad Annie, with a Jerry Scheff's solo in the middle. A series of oldies follow, beginning with Love Me, which is slower than what it would become very soon, Elvis sings it almost as if this is 1970 once again. Little Sister / Get Back medley is next, this version can in no way compete with the well know 1970' version, to my surprise, James Burton manages to mess up with the solo in the middle of the two songs (a very rare situation, I should add). All Shook Up is less rushed than what it would become very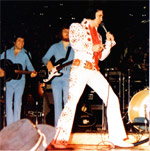 soon, but is not very inspired, anyway. The Teddy Bear / Don't Be Cruel medley is better and slower than what we are used to with all the later Elvis' concerts. One Night is next, nice to have it here, but this version is miles away from what Mr. Presley could with it some two years before, his voice seems weak here, the hoarse becomes more evident. Hound Dog is the standard slow / fast 72' version with Elvis confessing in the beginning: "This is an old Hound Dog". This version features an unusual James Burton solo, though Elvis' voice is weaker than one might have hoped for. A Big Hunk O' Love (the first live version of it) is next and Elvis seems to have real difficulty singing the first few words, as he is forced to shout them. The version is very energetic though. Bridge Over Troubled Water is next, an almost flawless attempt. Lawdy Miss Clawdy is next, too much orchestra on this version in my opinion - a flaw of the mix. The most important premiere of the evening - Elvis' own version of An American Trilogy - is next. With the "I wish I was in Dixie" lines completely sung by Elvis, this passionate version is probably the best ever I have heard from Mr. Presley, all his preceding voice problems are gone, this is a complete success! This is also probably the slowest version of the song I have ever heard.

Along with an instrumental version of Never Been To Spain Elvis goes into the introduction the band, followed by the first live version of I'll Remember You. It features an unusual rhythm from Ronnie Tutt, which is to our pity lost in the mix because of the orchestra, still this is a beautiful version. Suspicious Minds is next, this version is very far from what we are used to with the 1970' versions, but the finale probably featured some great karate moves. Very fast Elvis moves to Can't Help Falling In Love, closing the show.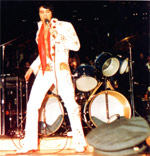 We have something extra tracks (thanks to the 2001 label), not of present interest though - three tracks from the closing night of September 3, 1973 (recently released by the FTD label). The Mystery Train / Tiger Man medley is wild, Elvis stops the song in the middle to introduce Tiger Man as a song "dedicated to the staff an the hierarchy of the Hilton Hotel". A very serious statement, especially taking in account the way the rest of the song is sung - in one word wild. Help Me Make It Through The Night is not sung seriously. The final track is a very emotional rendition of Softly As I Leave You - a whispered version, yet without the Sherill Neilson's vocal and the piano accompaniment. It's just Elvis in a dramatic one minute and a half.

What can we say as a conclusion? This is a very important historic document, not in the very best sound quality, though. The show itself is of lesser quality than, for example, the On Tour concerts, but this is probably due the fact that this is the opening night and Elvis is more nervous than usually. By the past BMG releases we know that the later performances from this Vegas season were really outstanding, since the biggest deal of pressure was gone. Still, this is an opening night, and if you consider yourself a serious and have the possibility to get a copy of this CD - do it immediately!

O bootleg index